3 New Books I Cannot Put Down
Alone Together by Sherrry Turkle (Why we expect more from technology and less from each other.) A riveting and often disturbing portrait of the future by America's leading expert on how computers affect us as humans. Turn off your e-mail and smartphones and read this book the old fashioned way. You'll thank me.
Cognitive Surplus by Clay Shirky (Creativity and Generosity In A Connected Age) Internet guru Clay Shirky forecasts the thrilling changes we will all enjoy as new digital technology puts our untapped resources of talent and goodwill to use at last. He posits that television has consumed a vast amount of America's intellect, time and energy, but for the first time people are now embracing new media that allows us to pool our efforts at a vanishingly low cost. The results are Wikipedia and the current overthrow of governments in Egypt, Libya and the Sudan. Let's all join together, turn off our televisions for a bit, read this book and do something productive.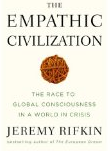 The Empathic Civilization by Jeremy Rifkin (The Race To Global consciousness In A World Of Crisis) Empathy as a skill not a gift of the creative was one of the three points of my latest video and talk. In this sweeping new interpretation of the history of civilization, bestselling author Jeremy Rifkin looks at the evolution of empathy and the profound ways that it has shaped our journey—and will likely determine our fate as a species. The dawning realization that we are a fundamentally empathic species has profound and far-reaching consequences for society.
Question: What book have you read lately that you could not put down?
If this post was helpful, please share it with your friends and social networks by clicking the buttons below.